INTENSIVE : Bodywork into Contact
"The mystic principles of Contact-Improvisation – the doors of the body"
We explore through different layers the effortless, trueful and playful aspects of Contact Improvisation.
Bodywork will guide us to different aspects of sensing our body. The facial structure of connected tissue offer us the "jucy and somatic" aspect, the fluids invite us to more flow in our movement and the dance with others, the bone offers supportive structure to lift and "light" up.
Even if we walk through different "doors of the body" we all-ways meet motion, movement, emotion, connectedness, gravity, space, life… in the container of total presence.
In this intensive "Bodywork" will guide us in different ways into dance. A timeless place of sensing and witnessing ourselves and others.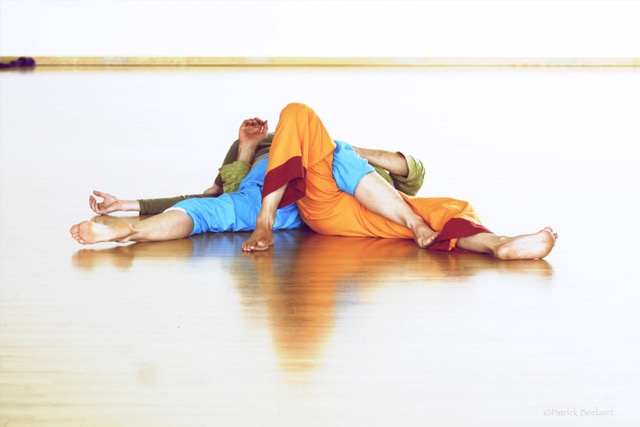 Kabiro Eva Scheller
She dances Contact-Improvisation since 1994 together with many different teachers from the USA and Europe. She teaches Contact-Improvisation and Hawaiian Massage since 15 years and has a lot of experience to lead people into their unique movement and life-potential with love and joy. She combines contact "on land" and "in the water" by using a lot of somatic material and early movement patterns.Her passion is moving from a natural movement force and witnessing the dance in a truthful way. Sharings are always part of her dance workshops to deepen the experience in a natural pure way of connectedness.