The organizing team is part of the 1001 Spirales

Since 2016, the association 1001 Spirales supports the festival, in the continuity of the work accomplished by Chorescence. 1001 Spirales organizes at Grenoble and its surroundings all over the year a weekly jam, training, internship, events, meeting with contacters of other towns.
Chorescence, founded in 2005 by Isabelle Üski, offers spaces for searching, learning, creating with moving and relating integrated bodies. Contact improvisation is central in all Chorescence activities, at least in its spirit. In a few years, Chorescence beacame a key place in France for Contact Improvisation and Improvisation. Within the association, an amazing collective and volonteer dynamic made possible various events such as the regular jam, Underscores gatherings, Bare foot Boogies, Sylvester Jams, French Contact Improvisation teacher Gathering, 36th CI celebration, and the festival.
2008, the 36 Thousand and One Jams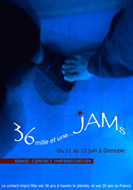 was an event celebrating the 36th birthday of contact improvisation, (a celebration that was held world wide, see www.CI36.com) which was also its 30th birthday in France. A performance day with various people involved in contact improvisation in France was followed by a two days long francophone contact improvisation teachers' meeting and a two day national jam. The whole event had more than 150 participants, including 30 international or French teachers and created a lot of enthusiasm, connections and new wishes in the community. The event was made possible thanks to local partnerships such the National Choreographic Centre of Dance, the Pacifique I CDC , the IUFM , the Conseil Général)…
2009 Thousand and One Jams
given the success of the previous year, one year later we organized a 3 day jam event. We invited local teachers to give workshops in the mornings. There were also some labs and performances. We were on the way to a festival.
2010 The Thousand and One- Le Festival- 1st edition
2011 The Thousand and One- Le Festival- 2d edition
2012 The Thousand and One- Le Festival- 3d édition
Those festivals offered 6 day meeting with workshops, intensives, jams, performances, underscore. Each year, teachers gathered before the festival and give a performance together.
The festival took place for 3 years in a row at Tremplin Sport Formation in Voiron and was build with partnerships such as the Conseil Général de l'Isère, the Pacifique I CDC ofGrenoble, the Amphidice at Stendhal University.
In 2013 the festival team decided to take a year break, in order to imagine a new festival in another place, schedule and environment.
2014 The Thousand and One- Le Festival- 4th édition
Since 2014 the festival is organized in Mens.
2015 The Thousand and One- Le Festival- 5th édition
2016 The Thousand and One- Le Festival- 6th édition
2017 The Thousand and One- Le Festival- 7th édition
2018 The Thousand and One- Le Festival- 8th édition